Chocolate

Pures Plantations®
Dark chocolate MADONG 70%
Papua New Guinea Madang
Description
Madong® 70% is truly unique in the couverture market with a surprising almost meaty chocolate from volcanic land. The flavour of fresh-cut grass and leather mingles with cigar smoke.
Origin
Trinitario plantations are mainly in the Madang region in volcanic high-nutrient land. It provides natural assets to the trees that produce cocoa with the unique flavour of cut grass and leather.
Composition
Total cocoa
Cocoa butter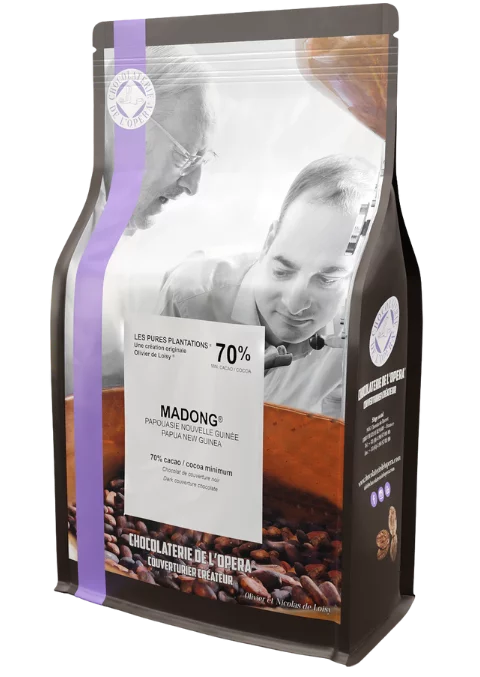 Aromas
Initial flavour: quick on herbaceous notes
Middle: notes of hay, smoked wood and leather
Finish: woody and slightly spicy flavours
Main sensations
Sugar : Low

Strength : Strong

Persistence : Strong

Best for
Decorating, moulding,
Coating, bars

Best before

24 months after production date.

Packaging

5kg bag / 20kg box 1,5kg bag / 15kg box

Allergens

Milk - Lactose - Soya - Oil/fat from soya entirely refined - Fructose - Suitable for vegetarians and vegans.