Chocolate

Pures Plantations®

Dark
Dark chocolate DUARTA 70% ORGANIC
Dominican Republic Duarte
Description
Duarta 70% is the first organic chocolate in the Pures Plantations range and its aromatic profile holds its own against the rest of the range. The cane sugar is overshadowed by the intense fresh notes of blackcurrant and black cherry.
Origin
Unlike major producers, the Dominican Republic has managed to hold onto its plantations' genetic roots. With marine soil unique to the country, Dominican soil contains some of the least cadmium heavy metal in the world. Fewer chemical products are used meaning its cocoa production is among the purest in the world.
Composition
Total cocoa
Cocoa butter
Cane sugar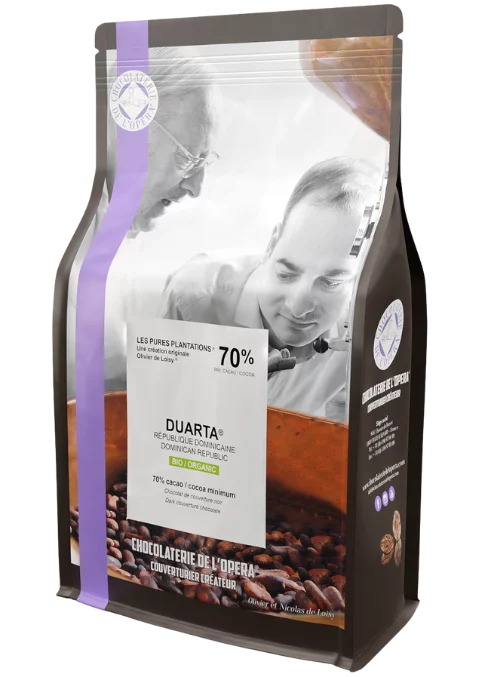 Aromas
Initial flavour: notes of blackcurrant and black cherry, the taste of cane sugar is moderate
Middle: fruity aromatic palette
Finish: long with a touch of bitterness
Main sensations
Sugar : Low

Strength : Strong

Persistence : Medium

Accordance
Orange, Cardamom, Red berries (blackcurrant, blueberry, raspberry).
Best for
Chocolaterie: ganaches,
Coating, bars,
Pastry: mousses, crémeux, biscuits

Best before

24 months after production date.

Packaging

1,2kg bag / 12kg box